A commercially successful return post-lockdown will depend on how effectively you reassure customers and staff that your premises are safe.
The Parify SP900 is a free-standing, touch-free hand sanitising station, designed for retail areas where dedicated handwashing facilities are limited or not feasible and plastic handheld plastic bottles are not suitable.
Ideally placed at the entrance/exit to your interior spaces, near tills, receptions or in seating areas, the SP900 is a practical solution tailored to businesses who need to keep aesthetics at a high standard.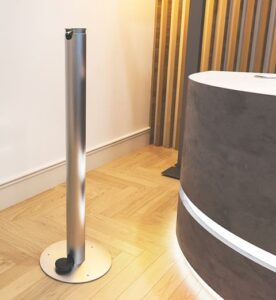 How it Works
Manufactured from heavy gauge steel, the dispenser is operated by pressing the foot pedal which releases a shot of sanitiser from the nozzle at the top of the unit, ensuring no handle or pump is touched by the customer or team member.
Bespoke Designs
​The Parify SP900 comes as standard in chromed steel to complement any environment.
We also offer a bespoke colour service and can powder-coat your stand in most Pantone colours, to ensure continuity of brand and aesthetics across your site.